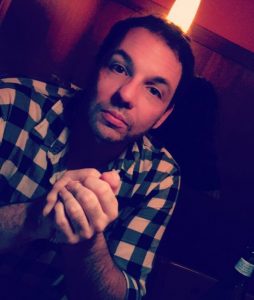 Maze's radio career started Saturday, January 17, 1987, in Malone, New York at WICY. Maze spent over a year harassing…Um…we mean "assertively expressing interest in working on air" before management finally couldn't take it and offered him a job while he was still in high school.
Some of the great cities he's broadcasted in include Boston, MA Philadelphia, PA New York, NY Montreal, QUE. From 1994-2000 Maze hosted "The Modern Buzz" an internationally syndicated show that aired in 62 countries on nearly 900 radio stations and is about to launch a new syndicated radio show (info coming soon!)
Through the years Maze has worked with some of his heroes including Van Halen's Diamond David Lee Roth (The two hosted a radio show in New York City) Howard Stern, Scott Shannon and so many more.
Famous friends of Maze include Ace Frehley (KISS) Matt Star (Mr. Big) Dee Snider, Sebestian bach and more.
Along with the madness that is his career he also proudly spent over 10 years as the spokesperson for the "Friends of Maze food drive" which has provided food for millions.
Maze (a stage 4 cancer survivor)  says he is truly blessed by God. "My daughter…The relationship we have, my wife, my health and the fact that I get to do what I LOVE every day….It's unbelievable. I am blessed, I am thankful!"