Local Mailman Josh Crowell has gone viral for his generosity and kind gesture. He's been using his own money to buy $5 Dunkin Donut gift cards to leave for graduating high school seniors along his mail route in both Bow and Loudon.
His story has gone viral, when asked how he feels about going national he humbly said, "It's not about me, it's really about the students that are missing out on their graduations."
He does not know any of the students, he says, "Just going along the route one day, I saw a sign that said a 2020 graduate lives here, and I wanted to do something good. I felt it's something to get them out of the house for a coffee and doughnut."
Josh's story has been picked up locally by WMUR, and many Boston news stations and even CNN!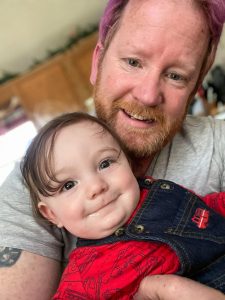 Crowell pictured here with his 7 month old Grandson, Oliver.
Nazzy & Tara from 105.5 JYY spoke to Crowell. Here the full interview here.